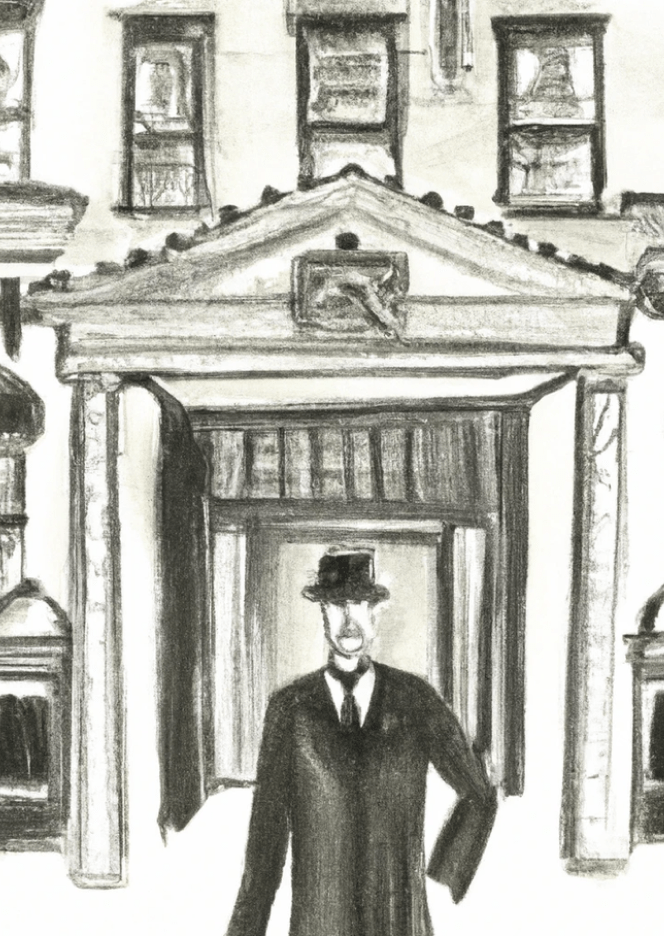 With a tip of the hat, a toodle-oo, and his catchphrase saying – "Live lucky!" – for over fifty years, Porter Riley bid good day to the great and the good of London from the doorway of The Dorchester.

But whilst he wished nothing but luck to his guests, it was a series of unfortunate events that led to his employment as a porter in the first place: his adored mother, Grace, died giving birth to her seventh son; his wife, known as floozy Florence, left him for a dock-worker; and – the bitterest of blows – his father's celebrated leather factory in Bermondsey was razed to the ground during a particularly heavy night of bombing in WWII.

A lesser man may have succumbed to various vices to overcome his grief, but Riley was a rare breed: a gentleman and a gentle man, he was loved by all and loathed by none (even floozy Florence couldn't find fault with the husband she'd left heartbroken).

And so, despite his skills as a tanner and leatherworker, he came to find himself as a porter at The Dorchester – the landmark London hotel overlooking Hyde Park.

Though bemoaning the loss of the family business he was set to inherit, he went about his new job with characteristic charm and cheer, and, on his first day, was handed a playing card by a patron: the ace of clubs.

"Keep your cards close to your chest and luck will come calling", the man remarked.

He was never sure why but, for over fifty years, Riley kept the club card in his pocket until, on his very last day, that same man returned. "We must play a game!", he exclaimed, before ushering the porter into a seat in The Promenade. Though neither a gambler nor a drinker, Riley was a good sport and, four hours later, found himself poised to take the final make or break turn. Just before he flipped the card over, his companion rose, shook his hand, and bid him adieu.

"Don't you want to see if you've won?", asked Riley.

"The result was already written in the stars", he replied.

Today, we celebrate the craft and character of Porter Riley with our collection of luxury leather goods that make ordinary life that little bit more extraordinary.
Our Core Values
At Porter Riley, our core values are the guiding principles that define who we are as a company and how we conduct our business. These values embody our commitment to quality, customer satisfaction, and ethical practices:
Quality Craftsmanship

We are dedicated to the art of fine craftsmanship, ensuring every leather product we create reflects the highest standards of quality and precision. We meticulously handcraft each phone and iPad case, using only the finest materials and paying attention to every detail.

Customer Delight

Our customers are at the heart of everything we do. We strive to exceed their expectations by providing exceptional products and unparalleled customer service. We actively listen to their needs and preferences to continuously improve and innovate.

Integrity and Ethics

We uphold the highest standards of integrity and ethics in all our business practices. Honesty, transparency, and fairness are non-negotiable aspects of our interactions with customers, employees, partners, and the communities we serve.

Sustainable Responsibility

We are committed to minimizing our environmental impact by responsibly sourcing materials and incorporating sustainable practices into our manufacturing process. We constantly seek ways to reduce waste, reuse resources, and contribute positively to the environment.

Passion for Innovation

Innovation is the driving force behind our products. We embrace creativity and continuously challenge ourselves to develop unique designs, features, and functionalities that enhance the user experience and anticipate our customers' evolving needs.

Team Collaboration and Growth

We believe in the power of collaboration and teamwork. We foster an inclusive and supportive work environment that encourages growth, learning, and collaboration among our team members. Together, we achieve more than we could individually.
These core values embody the essence of Porter Riley and guide us in our journey to create exceptional leather phone and iPad cases that resonate with our customers and the world around us.
We're here to help
Feel free to get in touch if you have any questions or to share your feedback. We're always happy to help!